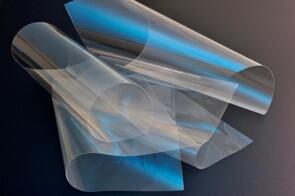 ZeonorFilm™ is a plastic film formed by sheet extrusion using Zeon's cyclo olefin polymers (COP) as a raw material. It has been described as a plastic that comes closest to glass in terms of properties such as low water absorbency and low moisture permeability, which typical plastics do not exhibit.

The excellent optical stability that comes from Zeon's proprietary precision processing technology makes it useful for a broad range of applications, including displays.
Characteristics
Details
High transparency
High transparency encompassing the short wavelength range
Low birefringence
Very little change in optical properties associated with factors such as stress while using ZeonorFilm™
Low water absorbency and low moisture permeability
The low water absorbency and low moisture permeability properties of COP used as a raw material of ZeonorFilm™ are maintained in the end product. These effectively ensure the product's optical and dimensional properties in high-humidity environments .
High heat resistance
Offers excellent durability under high glass transition temperatures (Tg).
Low amount of out-gassing and high purity
Very low out-gassing or impurity due to the use of highly pure raw materials and the application of sheet extrusion for the film manufacturing process.
Low dialectic constant
Low dielectric constant and low dialectic tangent , which minimizes transmission loss and deterioration in transmitting electric signals.
Chemical resistance
The COP used for ZeonorFilm™ demonstrates resistance to polar solvents, acids, and alkaline chemicals. On the other hand, it exhibits weakness against ether- and hydrocarbon-based chemicals.
Please contact us to confirm product resistance to specific chemicals.
Zeon also has products with enhanced chemical resistance for your consideration.
Low adsorption (protein)
The COP used for ZeonorFilm™ demonstrates low adsorption of proteins. This property has been successfully applied in the field of medical analysis in the form of products such as cells and microplates for blood analysis.
Micro-processing/Releasability/Transferring property
ZeonorFilm™ is a material capable of nano-level micro-processing and also offers an excellent transferring property and releasability. In addition, it is suitable for thermal and ultraviolet (UV) imprinting.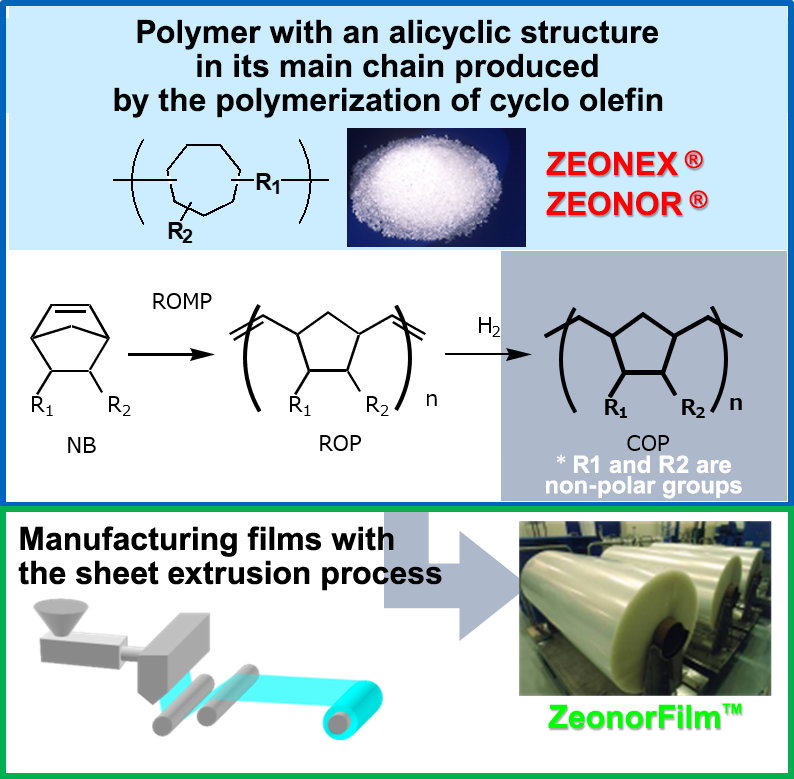 ZeonorFilm™ is available in a variety of types according to the differences in raw materials used and processing methods.
Differences in Raw Materials
ZeonorFilm™ is offered in three grades according to the glass transition temperature (Tg) of each raw material.
12: Tg: 120°C to 130°C (approximate)
14: Tg: 140°C to 150°C (approximate)
16: Tg: 160°C to 170°C (approximate)
All these products are made of COP manufactured by Zeon.
Products can be processed into various types of film using Zeon's proprietary processing method.
Processing Method
Material
Grades
Name of Series
Characteristics
Single Layer
Multiple Layer
Non-stretching
14/16
ZF
Isotropic film
12
ZF-U
UV cut film, isotropic film
MD stretching
14/16
ZM
Uniaxially stretched film in the direction of production flow
TD stretching
14
ZT
Uniaxially stretched in the direction of product width
Biaxial stretching
12
ZB
Biaxially stretched film
Unique stretching
12/16
ZD
Film made by diagonally stretched film
12
ZD-U
Film made by diagonally stretched filmUV cut film, diagonally stretched film
Retardation Film for Displays
Product is widely used in conventional flat panel displays.
ZeonorFilm™ is an essential component of polarizing plates used in LCD and OLED devices.
Examples of applications for ZeonorFilm™ in flat panel displays
In the configuration for LCD devices, liquid crystal is sandwiched between polarizing plates.
ZeonorFilm™ is positioned on the side of these plates facing liquid crystal cells.
Enhances visibility when viewing the device from a slanted angle.
Without the retardation film, the image will appear with a white hue that makes viewing difficult.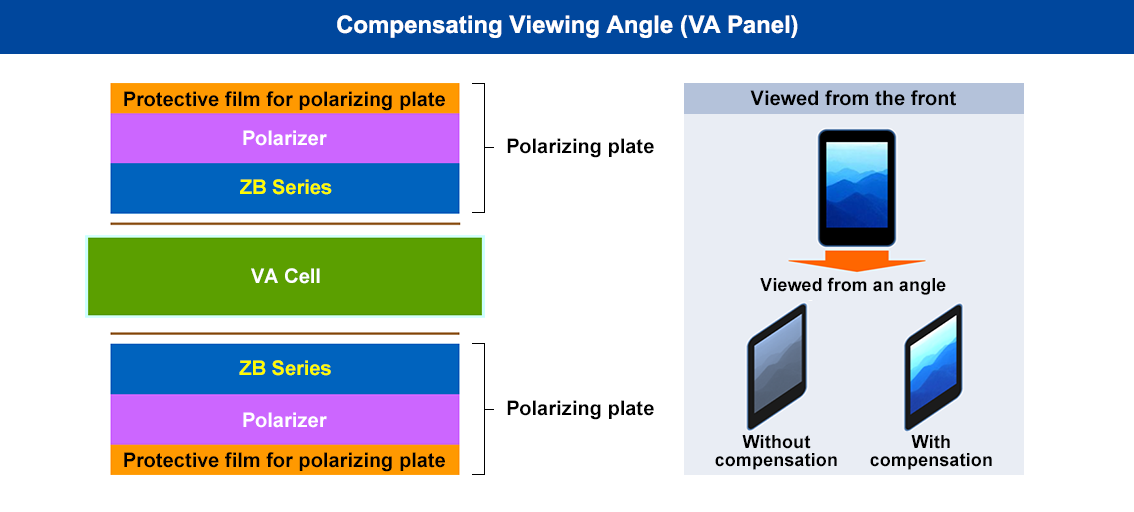 Film for Enhancing the Visibility of Displays
Have you ever experienced difficulty viewing your smartphone or tablet display when you are outdoors due to reflected sunlight or another light source?
Have you experienced a display appearing black, with little or no visibility when viewed through sunglasses?
ZeonorFilm™ can solve these problems.
(Mechanism and Functions)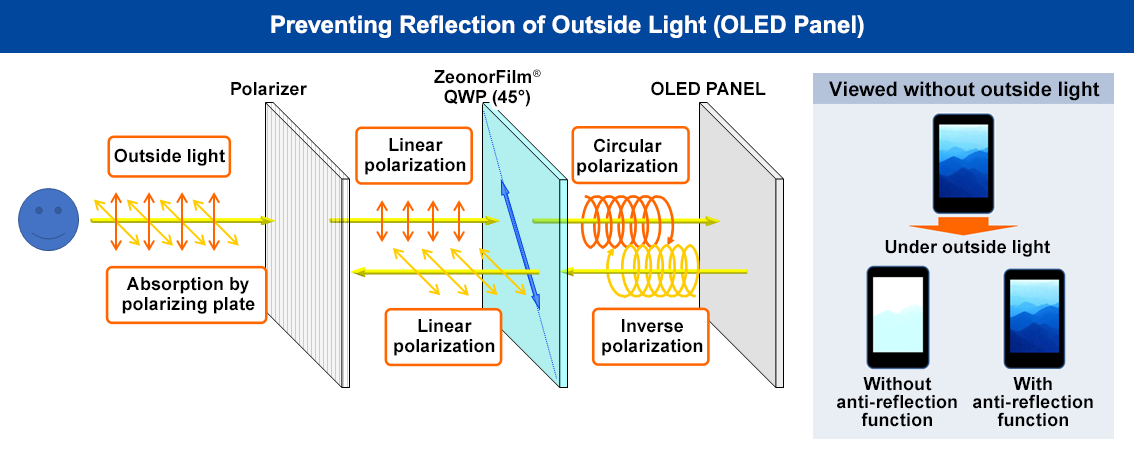 ZeonorFilm™ is used as a base film for touch sensors, which are required on devices for operating with a stylus or fingers.
Offers the thermal resistance and dimensional stability required for manufacturing touch sensors
Maintains display quality (color) due to the retardation effect provided by the base film in touch sensors

ZeonorFilm® with UVA function
ZeonorFilm® with UVA function used as protective film for polarizing plates
The product is used as the protective surface of polarizing plates (requires surface processing)
to block ultraviolet light, which can damage devices internally.

Catalogs and Technical Sheets
*

Catalog and Technical Sheet are now revising.
Please refer the data above, and contact us when you need additional information.
Contact Us about Specialty Components