Basic Strategy & Management Vision
Contributing to the preservation of the Earth and the prosperity of the human race.
In keeping with its name, derived from the Greek words "GEO" (Earth) and "EON" (eternity), Zeon will contribute to a "Sustainable Earth" and "Safe and Comfortable Life for People" by providing original technologies, products, and services.
The Origin of the Corporate Name, "ZEON"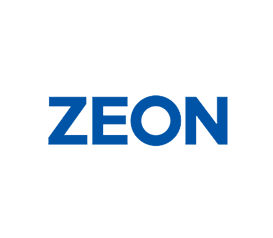 Zeon Corporation was founded as the first full-scale manufacturer of polyvinyl chloride resin in Japan, with capital and technology support from BF Goodrich Chemicals of the United States. Upon our founding, we adopted BF Goodrich's "Geon" trademark for a polyvinyl chloride resin as our corporate name. The word "Geon" is a compound of two Greek words: "GEO," which refers to the "Earth," and "EON," which refers to "eternity." It represents "eternal prosperity with materials supplied by the Earth." "ZEON" has been the company name since BF Goodrich Chemicals withdrew capital support.
■We aspire to realize a "Sustainable Earth" and "Safe and Comfortable Life".

■We will firmly maintain fairness and integrity in our activities to be a trustworthy company.

■Each of us will think and act proactively for a better future.
To continually focus on creating new businesses (Specialty Materials Business), taking full advantage of steady revenue generated by existing businesses (Elastomer Business).
Elastomer Business Strategy

To secure stable profits by achieving the world's highest quality and cost competitiveness and optimizing our global supply system.
Specialty Materials Business Strategy

To conduct user-oriented market deployment and dramatically expand business by further enhancing our technology platform based on world-leading, unique technology and precision processing technology using Zeon's proprietary materials.