Building on our technologies, namely monomer extraction, monomer synthesis, and polymerization, we have developed core technologies such as hydrogenation and impurity reduction. We consistently develop various unique technologies in line with the ongoing expansion of our business. The Zeon Group owes its broad array of businesses to the possession of basic technologies being developed with an eye on future commercialization. We will continue to work on raising the efficiency of our R&D and developing new products and technologies that offer genuine solutions to customer needs.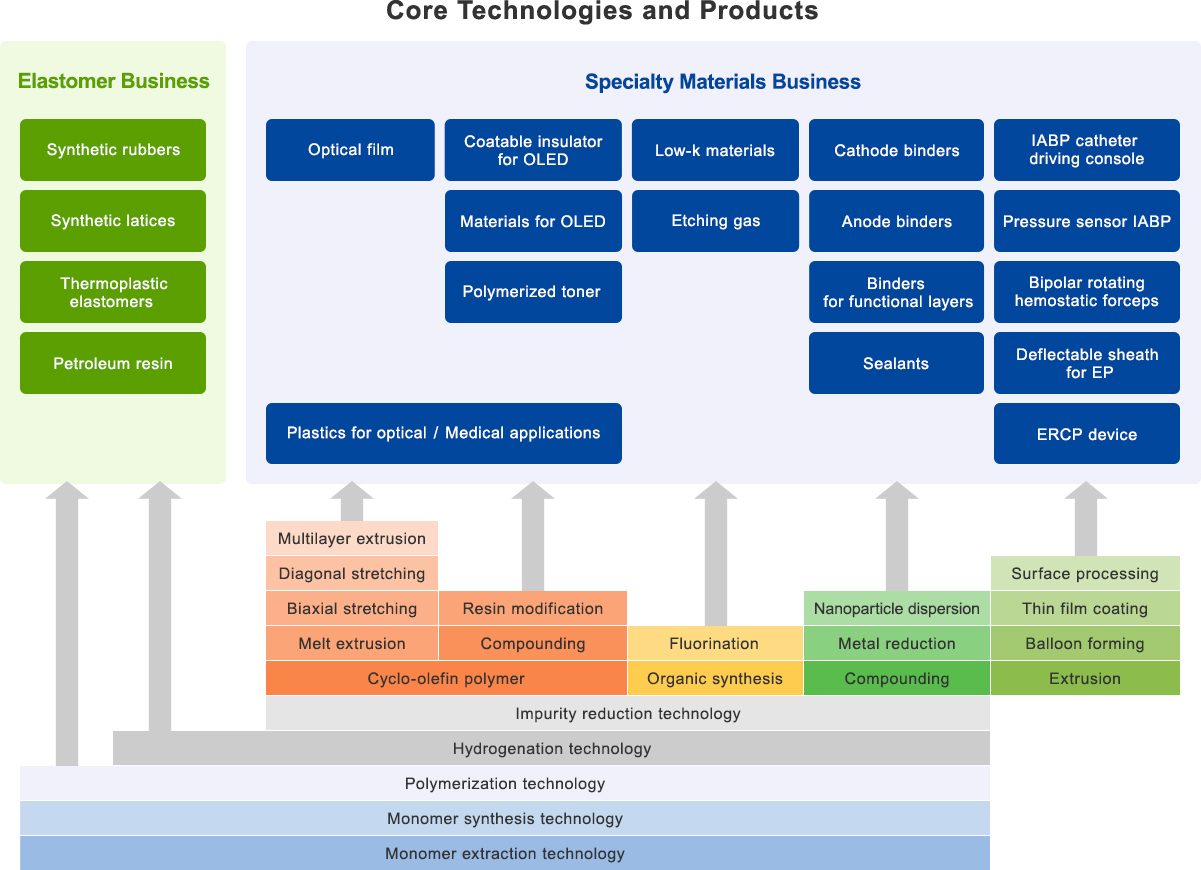 Zeon's Unique Technology: Comprehensive Use of C5 Fractions
Zeon Corporation's business is centered on using the C4 and C5 fractions (hydrocarbons containing four or five carbon atoms) produced by refining naphtha after separating it from crude oil. Zeon is uniquely positioned in the world as a company that makes comprehensive use of C5 fractions. We extract various raw materials such as isoprene, piperylene, and dicyclopentadiene, used to generate a broad range of products including polyisoprene rubbers, SIS thermoplastic elastomers, petroleum resins, synthetic aroma chemicals, reaction injection molding (RIM) formulation liquids, and cyclo-olefin polymers (COPs).
The Mizushima plant is primarily involved in the comprehensive utilization of C4 fractions and C5 fractions as Zeon's core production site. The GPB and GPI extraction processes used at the plant are Zeon's proprietary technologies for manufacturing highly pure materials, and they have been widely recognized with awards including the Okochi Memorial Foundation's Special Production Award and the Production Award.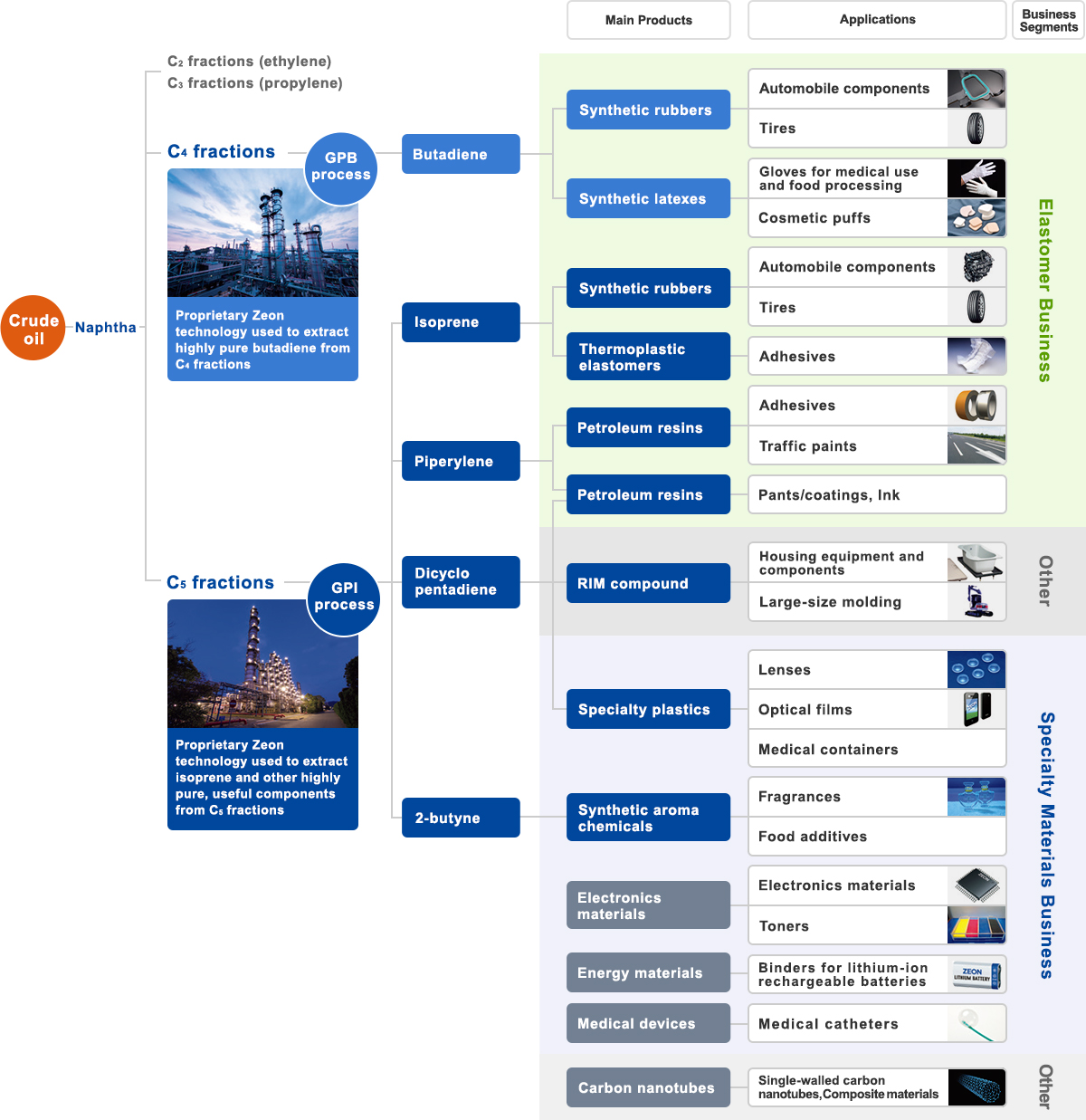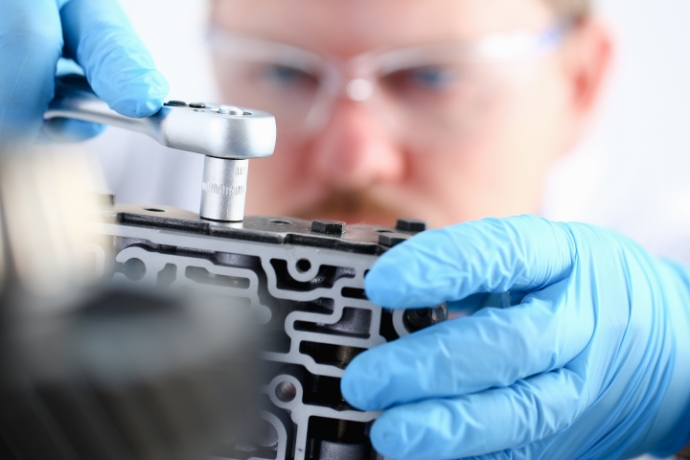 Conducting R&D Close to the Production Site
Zeon has around 400 researchers. In addition to the Kawasaki area in Kanagawa Prefecture, laboratories are near each plant in Takaoka, Tokuyama, and Mizushima. By placing our R&D organizations close to our production sites, Zeon aims to unify its manufacturing and technology. We have also established a flexible and efficient R&D system by enabling speedy implementation of lab-scale prototypes.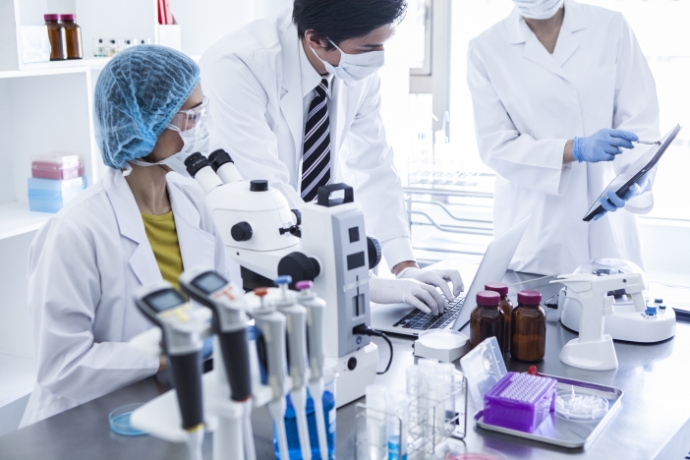 R&D Hearings
Each laboratory holds a hearing on research once a month to confirm the feasibility and competitive advantage of research themes based on Zeon's medium- to long-term strategy. Each research hearing is attended by the president and other members of management, who receive a progress report on development projects directly from the researchers. Consistency between its management and R&D strategies is another characteristic of the Zeon Group's R&D.