All About Zeon
Striving to Become the World's Number One,
Unique, First-in-the-World Enterprise
Zeon is proud to be associated with many of the world's premier products. We draw on our unique technology to produce countless products that form the backbone of everyday life.
Cultivating an inquiring mind epitomizes Zeon's approach to manufacturing. We are a company that creates materials rather than the final products. Once our customers express their need for creating a certain end-product, we begin exploring solutions for providing the optimal material for efficient commercialization.
Zeon excels in the technology for extracting varied materials from the C4 and C5 fractions of crude oil and has successfully applied that technology to create new materials. Our inquiring minds are second to none in the quest for materials, and we have fostered a corporate culture that constantly gives rise to new ideas.
This spirit of inquiry is in fact exemplified by our top management. Our President and CEO Kimiaki Tanaka is always present at the monthly presentations of technological research. Moreover, he constantly seeks out novel extraction methods and materials and engages in trial and error to discover applications in Zeon's operations. His example stimulates the inquiring minds among our employees and pushes them to take on the R&D challenges. Meanwhile, Zeon's corporate culture encourages employees to try out their ideas and entrusts responsibility to those who boldly step forward.
Since the "product-out" approach has become outdated, we need unfettered thinking today that can meet customer needs. This unshakable spirit of inquiry continues as a foundational characteristic of Zeon today.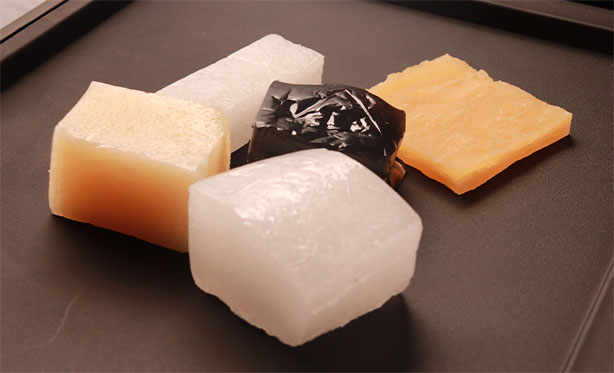 Zeon's Specialty Synthetic Rubbers
Zeon's specialty synthetic rubbers are mainly used for components of automobile engines. Our diverse product line-up, centered on acrylic rubber and acrylonitrile butadiene rubber, meets customer needs.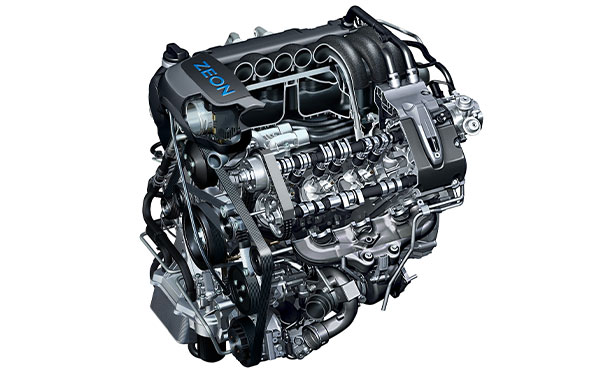 Hydrogenated Nitrile Rubber
Hydrogenated nitrile rubber (HNBR, product name Zetpol®) is a high-performance rubber Zeon developed as an industry pioneer. It is produced using our unique technology to achieve a high degree of hydrogenation for acrylonitrile butadiene rubber, which offers excellent oil resistance. In addition to oil resistance, it also excels in terms of wear and heat resistance and is widely used as an indispensable automotive material.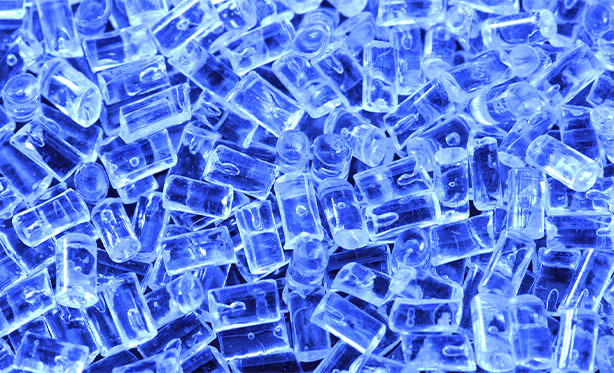 Specialty Plastics with Many Superior Properties
Cyclo-olefin polymers were developed by Zeon in 1990 and feature superior optical properties that have led to capturing a major share of the global market. Moreover, we have taken advantage of properties such as low impurity and high chemical resistance to expand their application for electric and electronic purposes as well as medical uses.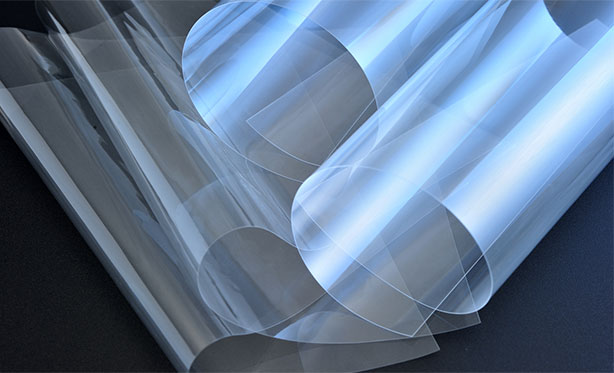 Taking on the Challenges of Processing
Optical films (product name ZeonorFilm®) were produced by processing cyclo-olefin polymer pellets into thin film. While Zeon has historically been a materials manufacturer, as we entered the 21st century, we began to take on the challenges posed by processing materials into film. While doing so, we were guided to success-namely, the sheet extrusion process, which was an epoch-making, first-in-the-world manufacturing method at the time. This unconventional approach proved to be highly productive and had a low environmental impact. It also enabled Zeon to quickly establish its position in the field of optical film.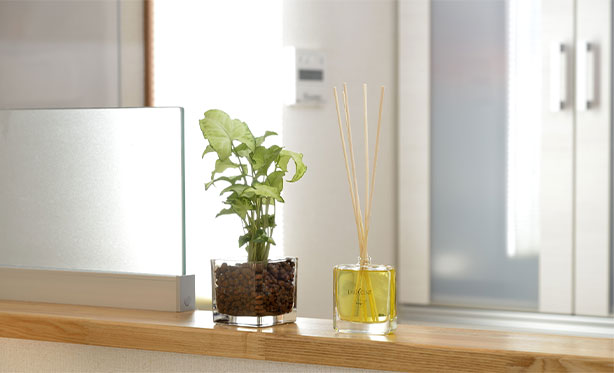 From Synthetic Aroma Chemicals to Industrial Chemicals
Zeon's Specialty Chemicals business handles a broad range of products, from synthetic aromatic chemicals for cosmetics and food products to industrial chemicals and specialty chemicals, such as pharmaceutical and agrochemical intermediates. We boast the world's top share in leafy, green fragrances.

Specialty Chemicals that Help Protect the Environment
Our HFC solvent (product name ZEORORA®-H) is a noncombustible material made of fluorine and hydrogen. It was developed as an alternative to chlorofluorocarbon by Zeon and Japan's National Institute of Advanced Industrial Science and Technology. In addition, it is regarded highly around the world, receiving numerous awards as a solvent featuring zero ozone depletion potential and minimal impact on global warming.
Single-Walled Carbon Nanotubes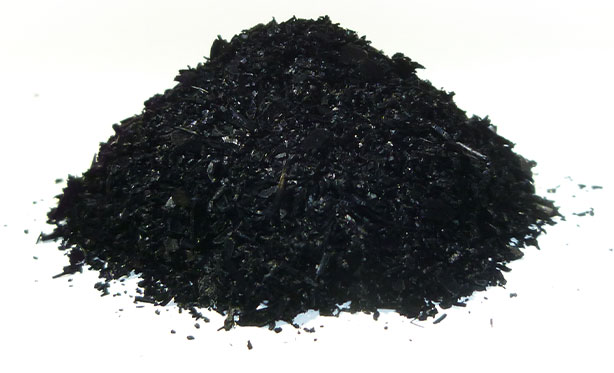 Mass Production of Single-Walled Carbon Nanotubes
Carbon nanotubes, discovered by Dr. Sumio Iijima in 1991, are categorized as either multi-walled (MWCNT) or single-walled (SWCNT) based on their respective structures. Compared to MWCNT, the difficulty of mass producing SWCNT had hampered its practical application. In 2004, Dr. Kenji Hatake at Japan's National Institute of Advanced Industrial Science and Technology developed the Super-Growth Method, representing a breakthrough in SWCNT synthesis. With support from Japan's New Energy and Industrial Technology Development Organization, Zeon subsequently developed the mass production technology by further enhancing the Super-Growth Method.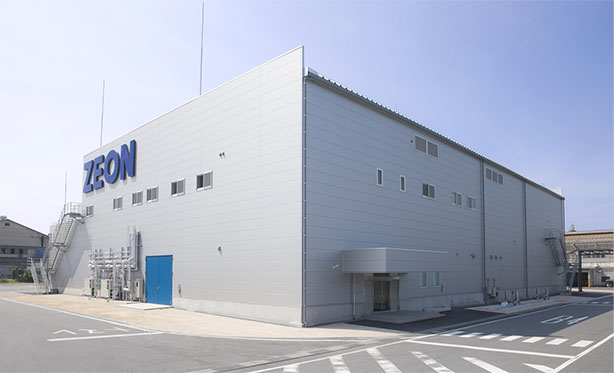 World's First Mass Production Plant for Super Growth Carbon Nanotubes Comes Online
Having established the mass production technology, Zeon began operating the world's first mass production plant for super-growth carbon nanotubes (SGCNT, product name ZEONANO®) inside the Tokuyama Plant in Yamaguchi Prefecture, Japan, in 2015.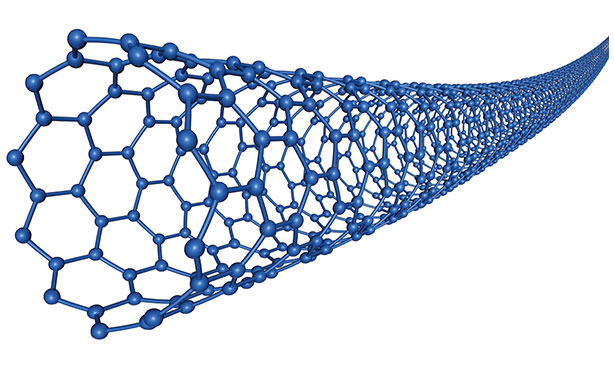 Expanding Possibilities of Single-Walled Carbon Nanotubes
Carbon nanotubes are lightweight and offer high tensile strength and excellent electric and thermal conductivity. They have the potential of being applied to serve diverse purposes. Compared to other carbon nanotubes, ZEONANO® features high aspect ratios, high purity, and a broad surface area, which make it ideal for applications in areas such as new advanced performance materials with unconventional functions and features as well as next-generation devices. Furthermore, it opens up possibilities for developing innovative materials and devices including high-performance capacitors, highly functional rubber materials, and high-thermal-conductivity materials. This dream material promises to attract significant attention and see increased demand.