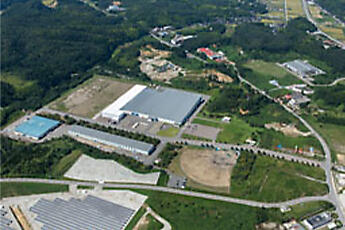 The Himi futagami Plant manufactures plastic film at two sites in Toyama Prefecture: Himi City and Takaoka City.
Since its operations commenced in 2007, the Himi City plant has expanded its production lines to meet growing demand. It continues to operate at full capacity, producing over 100 million m2 of ZeonorFilm™ each year, primarily for large TVs.
The Takaoka City plant began operations in 2001. Located next to the Precision Optics Laboratory, it provides the ideal environment for integrating R&D and manufacturing. It currently manufactures ZeonorFilm™, primarily for small and medium-sized devices.
Main Products

Plastic film
ADDRESS

Himi: 80 Kamitako, Himi City, Toyama 935-0035, Japan
Futagami: 422-1 Futagamishin, Takaoka City, Toyama 933-0981, Japan
TEL

Himi: +81-766-91-8520
Futagami: +81-766-32-1590
FAX

Himi: +81-766-91-8553
Futagami: +81-766-32-1591
ACCESS

Himi: 25 minutes by car from Takaoka Station on the Ainokaze Toyama Railways
Futagami: 20 minutes by car from Takaoka Station on the Ainokaze Toyama Railways