All About Zeon
Providing Security through Stable
and Safe Production
Beyond working to achieve zero accidents and incidents and reduce environmental impact, which are foundational requirements for a chemicals manufacturer, Zeon is closely communicating with local communities to achieve growth in collaboration with them.
Zeon's Environmental and Safety Initiatives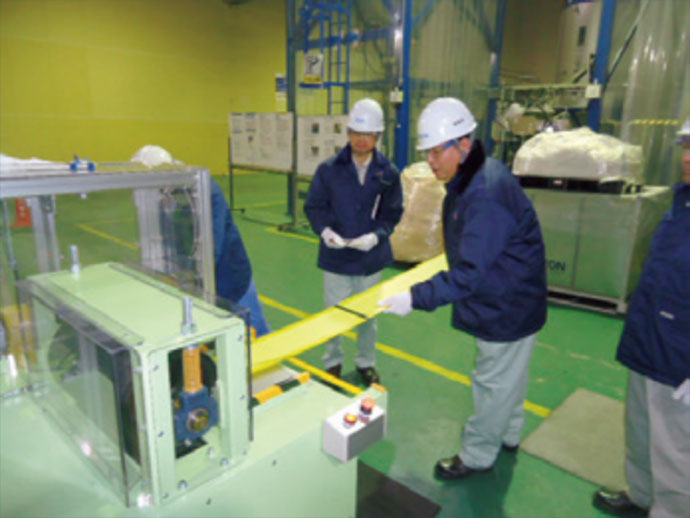 "Zeon has been a member of the Japan Responsible Care Council (currently the Responsible Care Committee of the Japan Chemical Industry Association) since its founding in 1995 and has continuously practiced the principles of responsible care*.
* Responsible Care: A voluntary initiative by businesses that manufacture or handle chemical substances to achieve continuous improvement in health, safety, and environmental (HSE) performance across the entire life cycle of such substances-from development and manufacture, through distribution and use, and ending in final consumption or disposal-based on the principles of independent decision-making and personal responsibility. These businesses publicly commit to Responsible Care in their business policies, implement HSE-related actions, and strive to improve their HSE performance.
Environmental Philosophy (established August 2001)
1

Environmental protection is a mission of a socially responsible organization

2

Our basic belief is that environmental protection can be achieved with innovative technology

3

Environmental protection will be achieved when all employees work together with a sense of mission to overcome challenges
Safety Philosophy (established March 1997)
1

Safety is the foundation of all business activities and the greatest priority

2

Our basic belief regarding safety is that we can prevent all accidents

3

Safety will be achieved by performing the 5Ss*1 and when everyone takes responsibility for their own actions
Environmental and Safety Management
Guided by the concept of responsible care, we established an environmental management system and have obtained ISO 14001 certification. In response to the revisions made to this standard in September 2015, we have completed upgrading to the 2015 version at our four main plants. Looking ahead, we endeavor to ensure the safety of everyone at our worksites and factories as we continue to maintain our concerted effort to provide and implement Group-wide environmental and safety education programs led by each plant. And we will continue our efforts to eliminate incidents and industrial accidents by managing our operations to win the trust of local communities.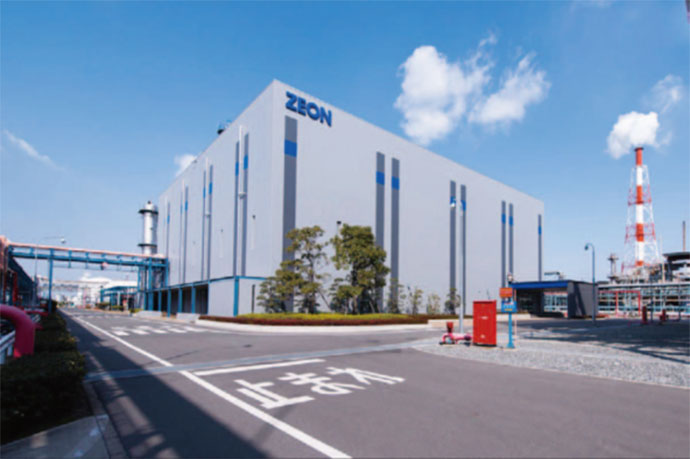 Zeon began introducing production innovation in 2006 through the Daicel Way to bolster its manufacturing worksites, and it established the Integrated Production Center, which serves as an integrated manufacturing base, at the Mizushima Plant in Okayama Prefecture in 2008. Since then, we have been establishing an intelligent integrated production system through a full-scale effort to create stable manufacturing worksites while reducing the operational burden as well as codifying and standardizing accumulated operational know-how. We also opened the Monozukuri Training Center to provide comprehensive training for our worksites, including the transfer of technical knowledge and safety education. Training is provided for many employees from each manufacturing worksite. Today our efforts are gaining significant attention from the chemicals industry as a cutting-edge production system. And we play a significant role in improving our system as well as in the reduction of manufacturing costs and reform of production site culture as we also nurture human resources.
Coexisting with Local Communities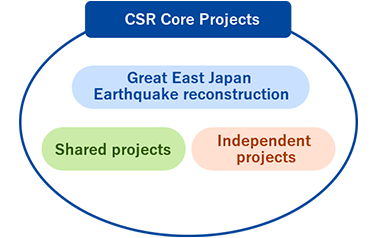 We believe that contributing to the development of local communities and building strong relationships of trust are crucial to conducting sustainable business activities and creating improved products and services.
Social contribution is essentially carried out through our core businesses. However, since companies are members of society, the complex set of issues faced by society and corporate activities are not mutually exclusive. We are therefore undertaking social contribution activities outside of our core businesses to engage with the public from a broader perspective.
In 2012, we launched CSR Core Projects, which are initiatives we selected from proposals submitted by Zeon Group companies. CSR Core Projects focus on social contributions outside the scope of our core businesses and provide employees with opportunities to turn their attention to social issues.
The head office plans activities related to supporting reconstruction of areas affected by the Great East Japan Earthquake as well as shared projects conducted across multiple plants and subsidiaries. Furthermore, plants and subsidiaries conduct their own independent projects. We are developing activities in these three broad categories with a focus on their synergistic benefits.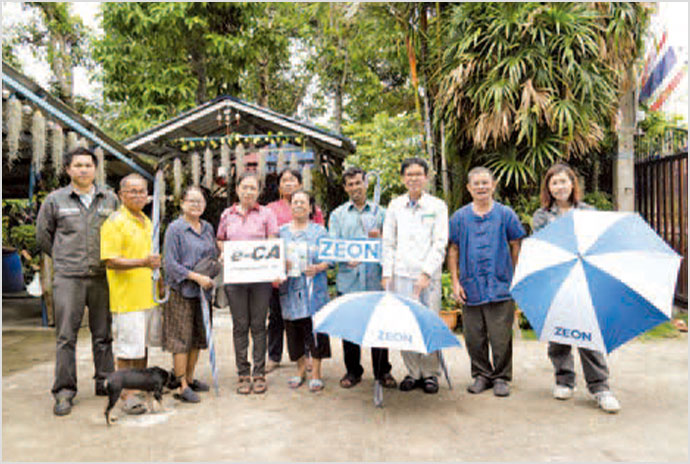 Maintaining a Harmonious Relationship with the Local Community
Zeon's plants and Group companies engage in communication activities and conduct charity donations to ensure smooth business operation and effective outreach to local communities.
Zeon Chemicals (Thailand) Co., Ltd. conducts communication activities with the local community, participates in local events, and makes charitable donations.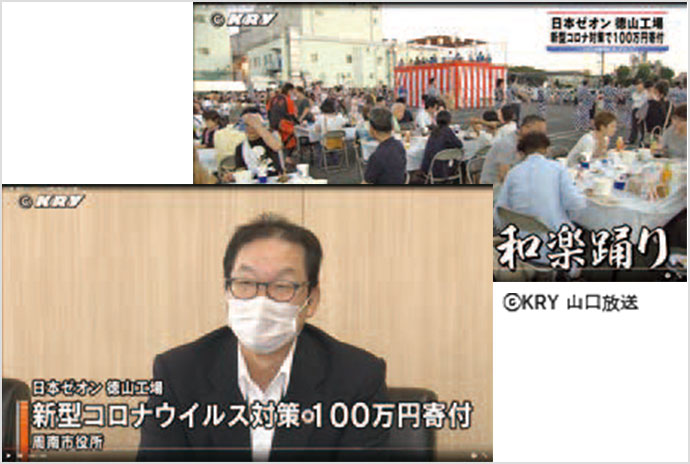 Holding Community Events
Zeon places high priority on connections with local communities. Zeon's plants and Group companies hold various events including summer festivals and welcome opportunities to participate in community events. Every year, the Tokuyama Plant sponsors the Zeon Waraku Odori Dance Festival. In FY2020, when the festival was canceled due to the COVID-19 pandemic, the plant donated one million yen to Shunan City.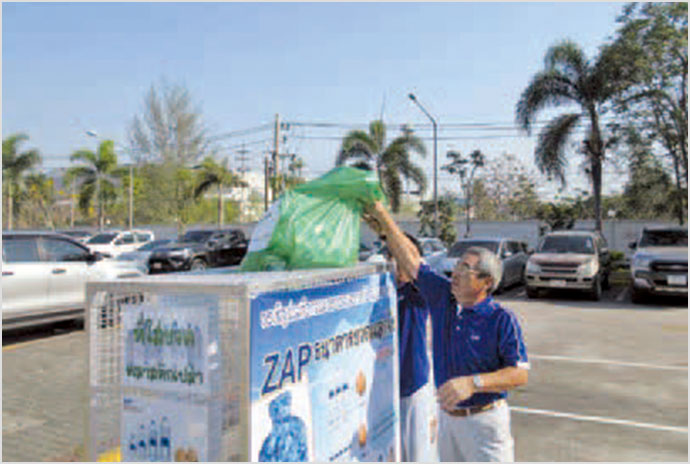 Cleanup Campaigns
With the goal of conducting activities that are beneficial and popular with local communities, Zeon's plant and Group companies conduct community cleanup campaigns around their sites and beyond. For example, Thailand-based Zeon Advanced Polymix Co., Ltd. (ZAP) has been conducting volunteer clean-ups for many years, serving nearby temples and public institutions as well as areas around the facility.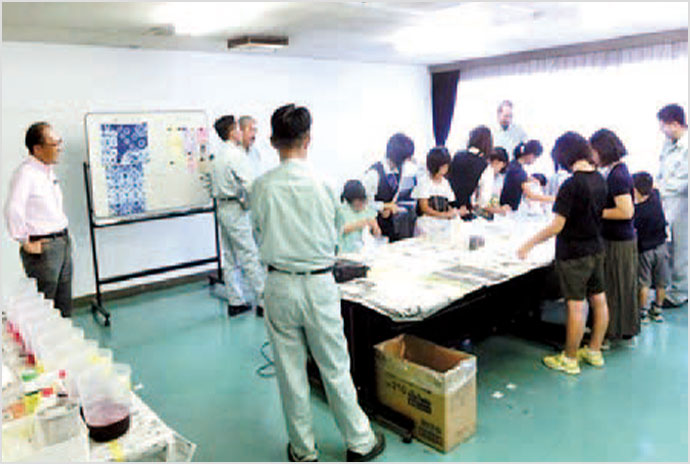 Support for Education
Zeon's plants and Group companies offer assistance to educational institutions with internships for high school, vocational high school, and university students by welcoming plant tours for school groups and sending special instructors to give lessons at schools. For instance, Tohpe Corporation holds tours of its Ibaraki and Kurashiki plants for children and their parents.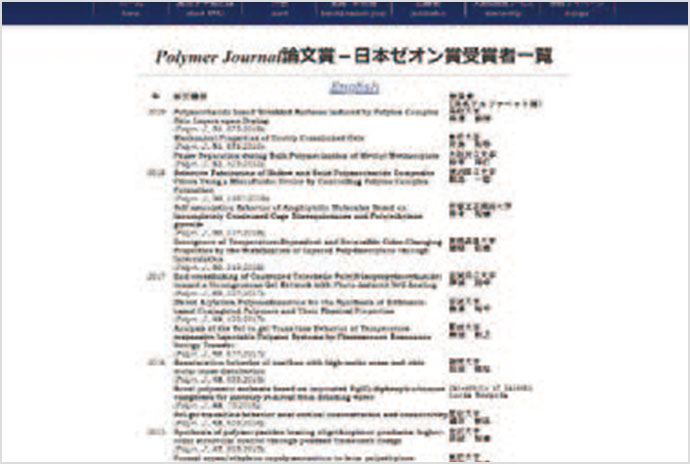 SPSJ Award Sponsored by Zeon
Zeon established the "SPSJ Award for the Outstanding Paper in Polymer Journal sponsored by Zeon" in 2005 within Japan's Society for Polymer Science and has presented this accolade annually for excellent papers. The award is designed to encourage research by young researchers, and the recipients are selected by a third-party committee having no ties to Zeon's business.
https://main.spsj.or.jp/c15/pjzaward/pjzjyuichiran-j.php
Events are also held to promote exchanges between the recipients and Zeon's younger employees.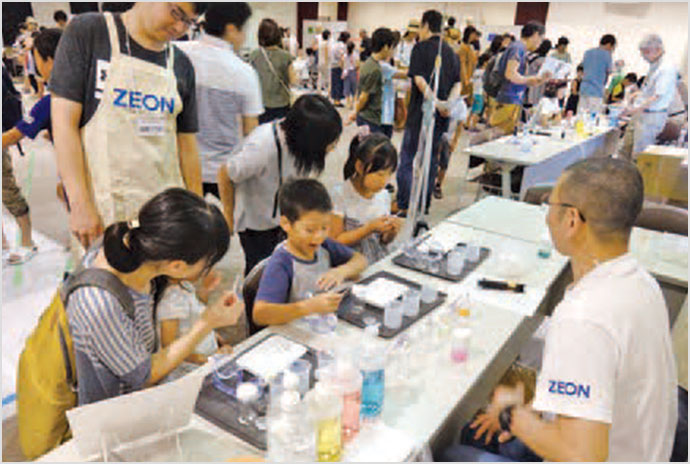 Chemistry Classrooms
Based on the motto of "nurturing future Nobel Prize winners in chemistry," we hold chemistry experiment classrooms in various areas to share the appeal of chemistry with children. Zeon Chemicals Yonezawa participated in the 2019 Youth Science Festival in Yamagata. Staff and children made aromatic air fresheners together by adding our synthetic fragrances to water-absorbing resin containing colored water.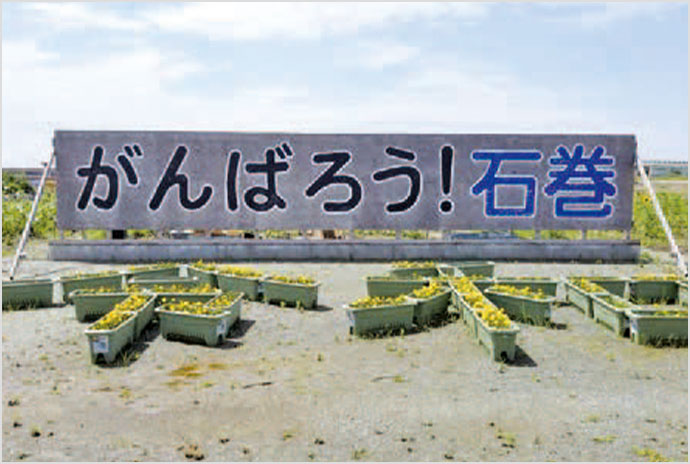 Restoration Volunteer Tours for Employees
Since 2012, Zeon has been organizing volunteer tours to support reconstruction efforts in areas affected by the Great East Japan Earthquake. Four took place in FY2019, and a total of 65 employees participated. During these we visited the cities of Ishinomaki, Minami Sanriku, and Kesennuma to offer support to the local fisheries and farming industries. Participants also attended earthquake disaster study programs organized by the disaster memorial museums in each city.
While aggressively promoting IoT and digital transformation, Zeon is focusing on standardizing operations such initiatives as production innovation activities for creating products at the same level of proven quality at sites in Japan and countries and regions around the world. Recently, we have been accelerating the shift to a global production system, led by the elastomer business, in which Zeon's plants in Japan serve as mother plants. We are also actively seeking to transfer technical knowledge and conduct personnel exchanges.
Zeon Chemicals Singapore Pte. Ltd. (Singapore)
Demand is growing for solution-polymerized styrene butadiene rubber (S-SBR), used in fuel-efficient tires. Zeon's S-SBR offers the conflicting properties of low rolling resistance and high wet-grip performance as well as excellent wear resistance. Zeon Chemicals Singapore was established in 2010 as the second site for producing S-SBR after the Tokuyama Plant in Yamaguchi Prefecture. It boasts an annual production capacity of 70,000 tons, and its products are being shipped to users around the world along with S-SBR produced at the Tokuyama Plant.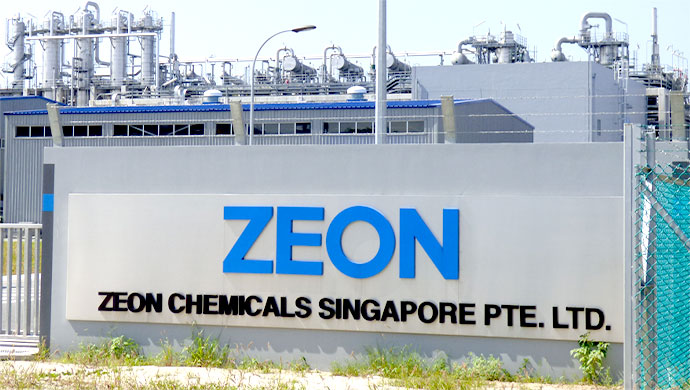 Zeon Chemicals Asia Co., Ltd. (Thailand)
Acrylic rubber is a specialty rubber that offers superior resistance against heat and oil, and these properties are being applied to its use as materials for seals, gaskets, and hoses for internal combustion engine vehicles. Zeon Chemicals Asia was established in 2018 in order to consistently meet needs for acrylic rubber, demand for which is expected to rise, mainly in Asia. In combination with the plants in Kawasaki, Kurashiki, and the U.S., Zeon will respond to those growing needs through its four-base network.