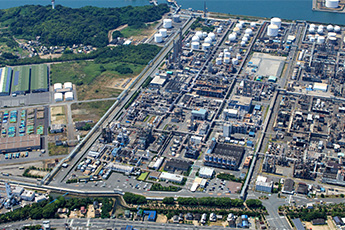 The Mizushima Plant is located in the Mizushima Coastal Industrial Zone of Kurashiki (population: 430,000) in the Setouchi region of southern Okayama Prefecture, an area which enjoys a mild climate. Operations began in 1969 as the production base for general-purpose polyvinyl chloride resin. Additional facilities were subsequently added, including a butadiene monomer extraction plant (C4-GPB plant), an isoprene monomer extraction plant (C5-GPI plant), and facilities for C5 related products such as isoprene rubber, synthetic aroma chemicals and specialty plastics.
ZEON's development of the C5 business has been marked by unprecedented achievement in the world due to the success of ZEON's own GPI process. The Mizushima Plant is a major production site representing Zeon's strength in the C5 business.
The Mizushima Plant, which has acquired ISO9001 and 14001 certifications, involves all employees in Total Productive Maintenance (TPM) and promotes Total Quality Control (TQC) across the entire company. The Mizushima Plant will continue to produce useful products of excellent quality, with safe operation as its top priority.
Main Products

Isoprene rubber, thermoplastic elastomer SIS, C5 Hydrocarbon resins, cylo-olefin polymer, RIM mold products, synthetic aroma chemical, isoprene monomer, butadiene monomer (Okayama Butadiene Co., Ltd.)

Production Process at Mizushima Plant
ADDRESS

2767-1 Kojima Shionasu Aza Niihama, Kurashiki-shi, Okayama 711-8511, Japan
TEL

+81-86-475-0021
FAX

+81-86-475-1169
ACCESS

From Tokyo, change trains at Okayama Station of Sanyo Main Line. Get off at Kojima Station of Seto-Ohasi Line, then 15 minutes by taxi.
From Kyushu, get off at Shin-kurashiki Station of JR Sanyo Main Line, then 30 minutes by taxi.