Specialty Chemicals
ZEORORA®H
Ozone depletion and global warming have been discussed worldwide, with a growing need to protect the environment globally. As a result, virtually all production of CFC substitutes (HCFCs), which are used instead of controlled CFCs, is scheduled to be discontinued in 2020 because HCFCs also have ozone depletion potentials although they are low. ZEORORA®H is a fluorinated solvent (c-HFC) with no ozone depletion potential. It is a non-combustible solvent which has very small environmental impact.
Cleaning and dissolving performance
Excellent compatibility with various solvents
Environmental characteristics and safety
Zero ozone depletion potential
Short atmospheric lifetime and little impact on global warming
Non-flammable
Thermally stable
Easy liquid recovery
High boiling point with low consumption
*

ZEORORA®H is included on the Significant New Alternatives Policy (SNAP) list.
Cleaning performance chart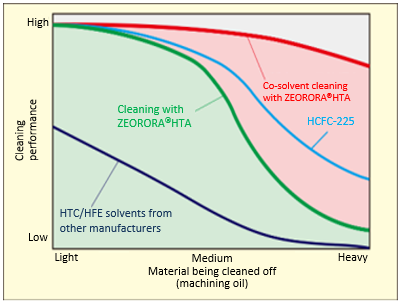 Environmental characteristics
Comparison of the environmental properties of fluorinated solvents
Classification
C-HFC
HCFC
HFC
HFC
HFE
HFE
Compound
ZEORORA®H
HCFC-225cb
HFC-43-10mee
HFC-365mfc
HFE-449s1
HFE-347
pc-f
Structural formula
c-C5F7H3
CCIF2C
F2CHCIF
CF3CF2
CHFCHFCF3
CF3CH2
CF2CH3
C4F9OCH3
CHF2CF2
OCH2CF3
Ozone depletion potential (ODP)
0
0.03
0
0
0
0
Atmospheric lifetime (years)
2.8**
5.9*
16.1*
8.7*
4.7*
6.0*
GWP (100 years)
175***
525*
1650*
804*
421*
889*
* Data from the Intergovernmental Panel on Climate Change (IPCC AR5)
** N.Zhang, et al., Chem. Phys. Lett., 619(2015), 199-204
*** A.Sekiya, JSPS, 155-104, April 2016
Basic properties of ZEORORA®H and ZEORORA®HTA
| | | |
| --- | --- | --- |
| | ZEORORA®H | ZEORORA®HTA |
| Specific gravity [25℃] | 1.58 | 1.50 |
| Boiling point(℃) | 82.5 | 82.0 |
| Surface tension (mN/m)[25℃] | 19.6 | 19.2 |
| Melting point(℃) | 20.5 | 6~10 |
| Flash point(℃) | None | None |
| Kb value | 14 | 20 |
| Main use | As a solvent | As a detergent |
Comparison of the properties of fluorinated solvents
Classification
C-HFC
HFC
HFC
HFE
HFE
HFE
Compound
ZEORORA®H
HFC-43-10mee
HFC-365mfc
HFE-449s1
HFE-569sf2
HFE-347
pc-f
Structural formula
c-C5F7H3
CF3CF2
CHFCHFCF3
CF3CH2
CF2CH3
C4F9OCH3
C4F9OC2H5
CHF2CF2
OCH2CF3
Boiling point (℃)
82.5
55
40.2
61
76
56
Specific gravity [25℃]
1.58
1.58
1.263(20℃)
1.52
1.43
1.47
Viscosity
(m Pa・s)[25℃]
1.59
0.67
0.4(20℃)
0.58
0.57
0.65
Surface tension (mN/m)[25℃]
19.6
14.1
15(20℃)
13.6
13.6
16.4
Melting point(℃)
20.5
-80
-35
-135
-138
-94
Flash point(℃)
None
None
None
None
None
None